————————————————————————

Date

June 14th-15th, 2013

Venue

Wuxi City, Jiangsu Province, China

Hotel

Worldhotel Grand Juna Wuxi (5 star)

Theme

Economic Globalization - Outsourcing or Insourcing

International Host

Asia-Pacific CEO Association, Worldwide

Hosts in China

Strategic Partner: Hewlett-Packard

Intelligence Partner: Jones Lang LaSalle

Main activities

. Formal meeting with top government officials

. Keynote Session

. Round table meeting; ITO, BPO and KPO

Cooperation and Communication Meeting

. Reception banquet by Gov. of Wuxi

. Business Tour

·The 6th GOS was chaired by Mr. Huang Qin
·Ms. Huang Lixin, Secretary of Wuxi Munic
·Mr. Wan Lianpo, Deputy Director of Depar
·Mr. Ren Hongbin, Standing Vice President
·Mr. Wei Jianguo, Secretary-General of Ch
·Mr. Stanley Xu, Director & General Manag
·Mr. Malcolm Norquoy, Director, IBM Globa
·Mr. Huo Jianguo, President of CAITEC, Mi
·Mr. Prakash Navalrai Kirpalani, Presiden
·Mr. Peter Chan, Regional Director, Head
·Mr. Pak Keung Chan, Vice President of Sa
·Mr. Jack Perkowski, Founder and Managing
·Mr. Zheng Xiongwei, Global Executive Cha
·Mr. Zheng Xiongwei, Global Executive Cha
·Mr. Kevin Gaylynn Kindall, Director, Qua
·Mr. Li Gang, Head of International Servi
·Mr. Max Allen Herriman, Region Special P
·Mr. Yu Lixin, Director of Service Trade
·James Liu, Sales Director, ITO of Hewlet
·Mr. Sidney Yuen, Chairman of HK of IAOP,
·Mr. Adriano Ruchini, Licensed Advisor of
·Mr. Emre Akpinar, Deputy Operation And M
·Mr. Alfredo M. Ronchi, Secretary General
·Mr. Michel Plaisent, Full Professor of U
·Mr. Christopher Maehl, Chairman of the F
·Ms. Nihan Bol, President of The Bol Grou
Global leaders of the summit
Zhang Gaoli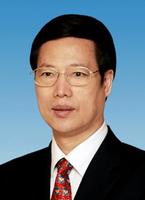 Member of the Politburo Standing Committee of the CPC Central Committee
Then Secretary of the Tianjin Municipal Committee of CPC
Zhang joined the CPC in November 1973, and he is an economist by profession. He was educated at Xiamen University in Xiamen from 1965 to 1970.
From 1997 to 2002, he held prominent leadership positions in the special economic zone of Shenzhen and the provincial government of Guangdong, and was instrumental in the economic development of region. An economic thinker, Zhang was then entrusted with the economic development of Shandong, where he was the first-in-charge CPC Shandong Committee Secretary.
Before the 17th Party Congress the central leadership moved Zhang in a provincial leadership reshuffle to lead the coastal city of Tianjin. He is believed to be an emerging member of the fifth generation of Chinese leadership.