Lord Howell of Guildford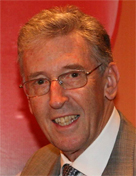 Minister of Foreign Affairs,United Kingdom
Deputy Leader of the Opposition in the House of Lords and Lords Conservative spokesperson on Foreign Affairs.
He is a former Secretary of State for Energy, and later for Transport in Mrs Margaret Thatcher's first Cabinet (1979-83). He was Minister of State in Northern Ireland (1972-74) and has held several other Government posts. He was Chairman of the International Energy Agency Ministerial meeting in May 1979.
From 1987-97 he was Chairman of the House of Commons Foreign Affairs Committee.
In earlier years, after serving in H.M.Treasury, he worked closely with both Edward Heath and Margaret Thatcher and is credited by several authorities with having invented the idea of privatisation in the late nineteen-sixties. He is Adviser to companies in Japan and the UK , and to the Kuwait Investment Office. He was Advisory Director to SBC (later UBS) from 1989 to 2000.
He is co-chairman of the Windsor Energy Group and President of the British Institute of Energy Economists.
In 2001 he was awarded the Grand Cordon of the Order of the Sacred Treasure by the Emperor of Japan (Japan's highest honour for foreigners) for his work in furthering UK-Japan relations.
He is the author of several books, including the best selling 'The Edge of Now', (published in 2000), and 'Out of the Energy Labyrinth' (2007) and writes columns for The Japan Times, the International Herald Tribune and the Yorkshire Post.
He is married with three children.