————————————————————————

Date

June 13th-15th, 2013

Venue

Wuxi City, Jiangsu Province, China

Hotel

Worldhotel Grand Juna Wuxi (5 star)

Theme

Approved by

Ministry of Commerce, China

International Host

Asia-Pacific CEO Association, Worldwide

Hosts in China

. Chinese Academy of International Trade and Economic Cooperation, Ministry of Commerce of PRC

Co-organizer IAOP

Main activities

. Formal meeting with top government officials

. Keynote Session

. Round table meeting; ITO, BPO and KPO

Cooperation and Communication Meeting

. Reception banquet by Gov. of Kunming

. Business Tour

Main Participants: Heads of state and Political Figures, ministers, members of parliament, governors and mayors worldwide, Executives from Fortune 500 companies, Forbes 2000 companies, IAOP 100, listed companies, famous investment companies as well as outsourcers and service providers worldwide, renowned economists, outsourcing experts and scholars; chiefs from famous international organizations and industry associations from all over the world, government officials and top business leaders from China.

Adriano Ruchini, CEO, MINEERVA Scpa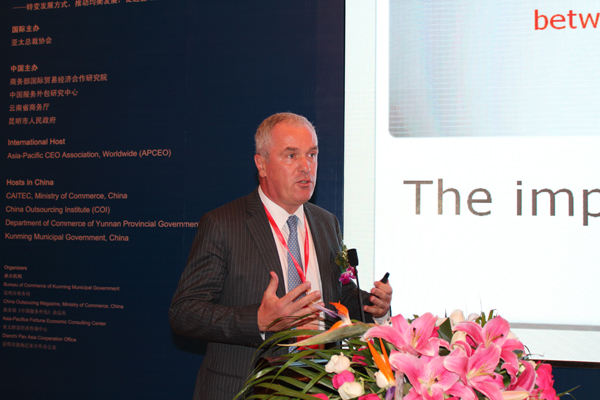 Adriano Ruchini, CEO, MINEERVA Scpa